Switch to LED Lights through discounted lighting upgrade in New South Wales.
What is ESS Scheme?
The Energy Savings Scheme (ESS) has been introduced by the NSW Government to reduce electricity consumption by providing households and businesses to upgrade their lighting equipment's to energy-efficient LED lights, at discounted rates. The NSW Electricity Supply Act 1995 established the ESS Scheme. Since it's introduction, ESS has been involved in projects that will deliver more than 27,000 gigawatt hours of energy savings estimated to be worth around $5.6 billion in reduction of bills.
NSW Electricity Retailers and Large Electricity Users are required to purchase energy savings in the form of ESS Energy Saving Certificates. These Energy savings are created by Accredited Certificates Providers (ACPs) who undertake energy saving projects by installing, improving or replacing energy savings equipment, allowing households and businesses to take advantage of the discounted LED lighting upgrade.
How does the ESS Scheme work?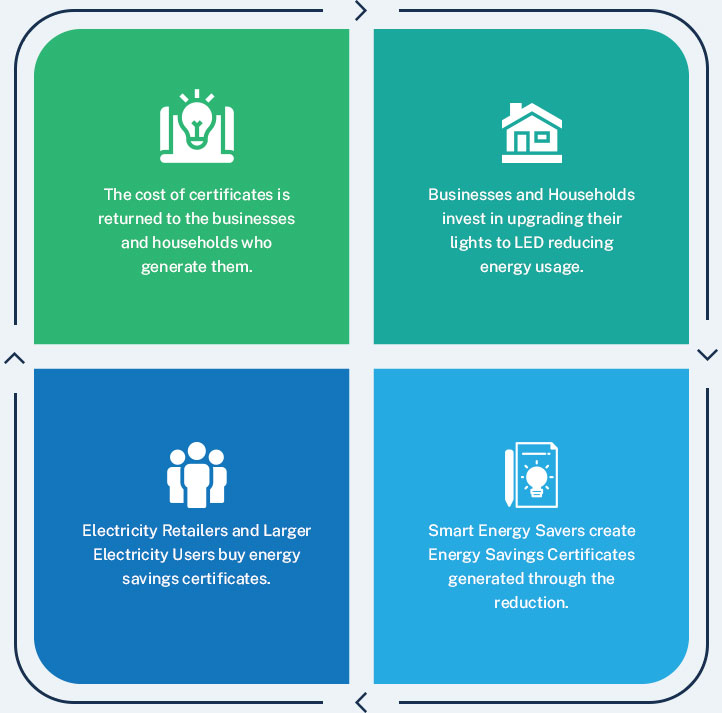 SMART ENERGY SAVERS PROCESS FOR INSTALLATION

QUOTE
Smart Energy Savers will assess your lighting needs and provide you with a discounted lighting quote.

INSTALL
Upon approval, Smart Energy Savers will carry out the installation through licensed electricians.

RECYCLE
Removed lights will be safely disposed and recycled by Smart Energy Savers.

SAVE
Enjoy savings while Smart Energy Savers handle all of the paperwork.
How much will I be saving?
Ready to Upgrade your Lights with Smart Energy Savers?
We have performed hundreds of LED upgrades in New South Wales and have streamlined the process to make it as easy and trouble free as possible.
Your Questions Answered
Q. IS THE UPGRADE SUBSIDIZED?
To be eligible for a subsidized upgrade, you should meet up the minimum number of lights for us to upgrade. We can still service your property if you do not meet the requirements, however, that will incur full installation costs.
Q. ARE THERE ANY HIDDEN COSTS INVOLVED?
There are no hidden fees involved in the process if you meet the eligibility criteria. Extra charges may apply, depending on the property assessment, or any work that is not covered under the scheme by the electrician.
Q. HOW CAN I AVAIL THIS OFFER?
You can contact our local live-chat support or ring us anytime at 1300 122 555